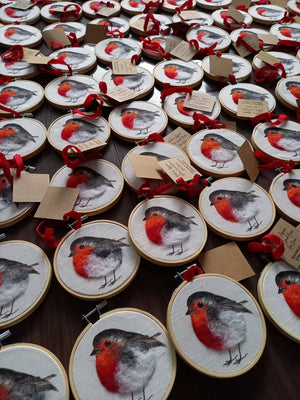 Irish made Robin wall art
A Heart Felt Gift
Hand made with real wool
Robins Appear When Loved Ones Are Near
Heart Felt Gifts was born out of a desire to send small affordable gifts during the lockdown of 2020. The designs evolved into various craft form until I discovered the art of "needle felting" otherwise known as "painting with wool".

During the sad times, where funerals had restricted numbers, I thought long and hard about a suitable gift to give to the bereaved - something beautiful, tasteful and thoughtful. And so my little Robins took shape.
Since then my little fluffy robins have flown to homes all over Ireland and abroad, delivering with them a little message of hope.
I'm always dreaming up new heart felt gifts
Sign up to my mailing list to know when new designs are added. I'll only email you when I have something special to share .